---
Current Trail of Painted Ponies

2017
2018
EXCITING
15th Year Anniversary News!






~~~~~~~~~~
Click the pony picture to see it larger.

USA Shipping 1 & 2 ponies go USPS. First pony $12.00 plus $5.00 for each added pony.
* Gift from the Sea may call for an added invoice for being heavier.

Orders leave here in 2 days.

INTERNATIONAL orders, E'me so I can weigh the box.

Larger orders go UPS, ask for a quote.
Trail of Painted Ponies
Collector's Choice Ornaments 2018 > Instock now see below.
Christmas 2018 Figurines & Ornaments
CHRISTMAS 2018 ----------------- these are due in July, 2018


White Christmas, Santa's Workshop
Winter Beauty & Candy Coated Treat


Select Which Pony You'd Like ~ $48.00
($12.00 shipping for 1 pony, 5.00 for 2nd)

---
Set of all 4 ~ $205.00
USA 48 shipping included
E'me to Pre-Order for next Holiday release and get low LE numbers!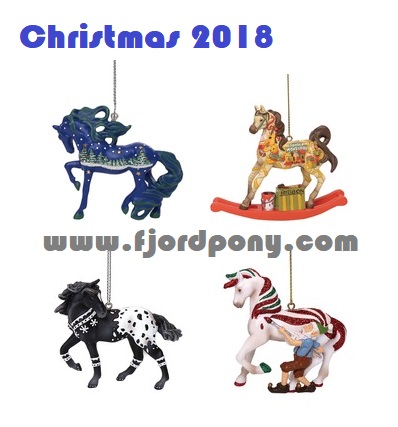 ~~~ Ornaments ~~~


Select 2 Ornaments - $40.00
(First Class USA Shipping Included)


Set of all 4 - 2017 Ornaments - $80.00
(Priority USA Shipping Included)
I ship 2 ornaments minimum as many singles have been lost or damaged in the mail.
E'me if you live in another country and would like a quote or a PayPal invoice to help you purchase anything here.
2018 COLLECTOR'S CHOICE ORNAMENTS - In Stock Now.

Night Flight & Unicorn Magic
(use button below and include these choices)
E'me with any questions.