| | |
| --- | --- |
| Be sure to E'me if you have any questions. | Ponies & Equine Gifts from Betsy with the Horse Lover in Mind |

Current Ponies




2017


Anniversary
News



Click the picture to see it larger


We ship within 2 days, so order with confidence..

Priority Shipping of 1 or 2 ponies is $12.00 and only $5.00 2nd. Larger orders shipping quoted/refunded..

Trail of Painted Ponies
Currently Made Ponies from
2010 - 15th through 2015 - 36th Releases which are (Not Retired Yet)

15th Release - 2010 SPRING

17th Release - 2010 FALL
21st Release - 2011 FALL
26th Release ~~ 2013 WINTER


War Cry 2E/ $45.00
See Gallery Pic's










Crossroads 1E/- $50.00

30th Release ~~ 2014 WINTER
32nd Release ~~ 2014 SUMMER
36th Release ~~ 2015 SUMMER


Guardian of the Sunsets Gates 1E/
~ Sorry Sold Out ~


For Retired Ponies visit our RETIRED CORRALS.



A Star is Born 1E/- $58.00





Stand By Me 1E/ ~ $58.00






RIDE THE SKY
INSPIRATIONAL BOOK
$10.00 + $3.00 shipping USA.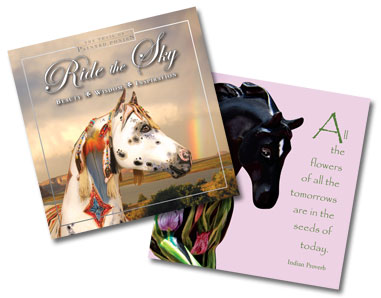 Click pony picture to see it larger.
These ponies are made by Enesco.
All are very lovely and your Satisfaction is Guaranteed
All these ponies are BRAND NEW, with specific hanging tag, box and packaging
Shipping will be included in the Shopping Cart process.
I'll refund any extra shipping not needed that you may be over charged.
Our SHOPPING CART INCLUDES Credit Card PROCESSING OR PAYPAL
OR
Call IN YOUR ORDER TO 559-645-4111 PST
Money Orders & Checks accepted also.
(whichever you prefer )
May 7, 1997 - 2018; All Rights Reserved Betsy Bauer